Mountains, beaches and charming corners
Ingenio is a place that surprises the visitor with its natural landscapes, caves, beaches and picturesque corners that preserve their historical heritage.
Download the route through the historic center of Ingenio and take a tour of the town, Néstor Park, the museum of water and sugar.
Download the route through the historic center of Carrizal. the center has a legacy full of traditions and culture in which the Church of Our Lady of Good Success is located.
Ingenio is crossed by a multitude of trails that constitute an authentic road network, originally traced by the first settlers.
The archaeological heritage includes 13 sets of burial caves, granaries, and rooms, among others.
The commercial areas concentrate a great variety of shops such as supermarkets, supermarkets, bakeries, candy stores, butchers …
Essential places to discover in Ingenio
Located in the nerve center of the municipality, next to the Church of La Candelaria and the Ingenio Town Hall, is this house ...
The center is a place where cultural traditions are manifested. Take a tour of its streets where you can visit the new street, the water and sugar museum among others.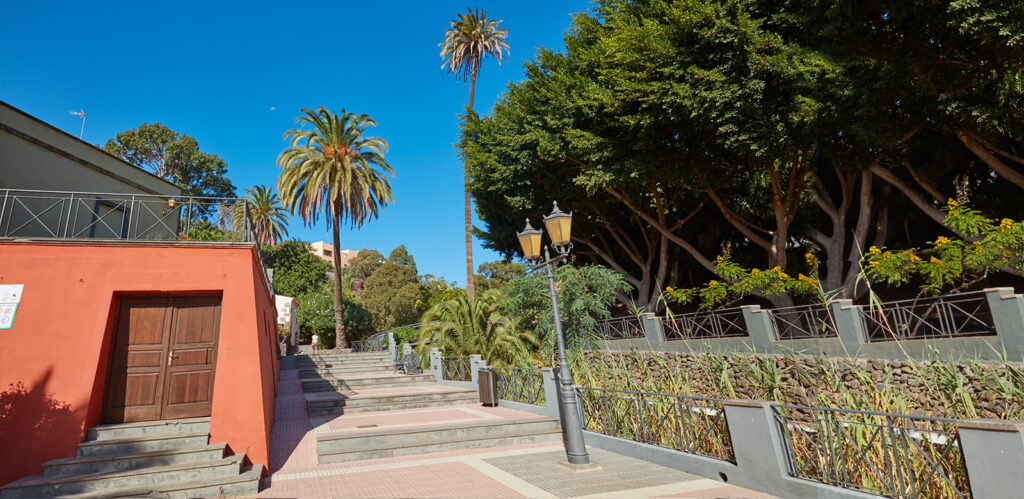 Enjoy an atmosphere of calm and vegetation, highlighting the Palmera de Paquesito with its spectacular height that makes it one of the highest on the island of Gran Canaria.
In the Pasadilla you can enjoy great views of the Atlantic Ocean and meet native flora.
A beach away from the traditional tourist circuits to have fun with family or friends.
Declared a Natural Monument and Asset of Cultural Interest of the Canary Islands. It has the most outstanding archaeological heritage of Gran Canaria.
This archaeological site is made up of a set of caves and silos excavated in the rock.
One of the sites closest to the riverbed of the ravine and the one with the easiest access.
It is declared a natural monument and an area of ecological sensitivity by the Government of the Canary Islands.
Natural environments, water sports, native flavors
Ingenio has natural environments, which allow the development of a diversity of activities around tourism.
The Barranco de Guayadeque that collects the legacy of our ancestors, being the owner of numerous historical caves and native fauna.


El Burrero welcomes a large number of surfers and lovers of water sports, making this one of the favorite places for vacation tourism.
Ingenio's kitchen covers the municipal geography from the coast to the midlands. From grilled meats, fish and seafood, fresh and cured cheeses, bread and homemade desserts freshly made in the local artisan bakeries.


Information about the climate in Ingenio.
These commercial areas are the largest in the municipality. They have a wide variety of shops such as supermarkets, supermarkets, bakeries, candy stores, butchers and fishmongers, restaurants, car dealerships, jewelers, watch shops, shoe stores, clothing stores, hairdressers, beauty centers, waxing, furniture stores, decoration, tattoo studios, florists, etc.